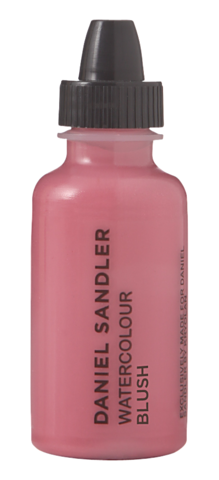 Do you know when you just get it in your head that you want something, like really want something? You kinda go on a mission to convince yourself that you don't actually want it or actually need it, and then when that doesn't work, you end up wanting to buy the thing even more than before you started.
Well that's the predicament I'm in just now with the above little beauty of a product.
It the Daniel Sandler Watercolour Blusher.
I had saw it in magazines and blogs for a little while but I hadn't been looking for a new blush so I never bothered really looking at it or finding out more about it.
Then the week after Christmas I had been thinking about maybe updating my everyday make-up routine with something new.
I don't know about you, but I wear the same 'day' make-up give or or take a few eye-liner flicks most days. I love all the products I use all the time, I like to look natural but still glowy and it works so that if I want to change it up for night I can.
But recently I added a new bronzer to my 'everyday routine' which has then lead to me thinking I would like to try a new blusher too.
I have worn the same blusher for years, and I really do adore it but sometimes I do think it's nice to change it up for a bit.
So after thinking that, what do I come by, an article about this blusher. And that was it.
I became slightly obsessed with finding more about it.
I have super sensitive skin, like majorly. I have taken reactions to so many skincare/make-ups in the past so that's probably another reason why I always use the same everyday make-up routine, as it is such a hassle splashing out on a new product for me to swell up after using it.
So I have been trying to do my research about this product and from what I can see, it seems pretty natural and good for sensitive skin.
Have any of you with sensitive skin used it before? Was it ok on you?
After going back and forth for ages about whether or not I should buy it. I saw that Mr Sandler himself was going to be on QVC selling his products.
Have to put my hands up here and say I LOVE watching QVC when they have make up on it, I love seeing the make-up in use and I think that you really get some good info

as the make-up artists who created the line normally appears on it with the products too.
Also not gonna lie I kinda love just listening to the presenter be unintentionally hilarious trying to over sell the majority of their products, always too funny!
I have never used any of Daniels products before and didn't know a lot about the brand so was really intrigued to see him talk about his products.
It was really great seeing him use and talk about the watercolour blush and to be honest he totally sold it to me, as well as making me become a bit in love with some of his other products. The only reason i didn't buy from QVC as it was too pricey on there.
The cheapest I have found the blush is £12 on
Very
. I really want the Cherub as it seems like the only pink one he has, so I think I'm going to take the plunge and just get it!
Have any of you guys used it, what did you think?
Do you use the same make-up everyday like me or do you change it up all the time?