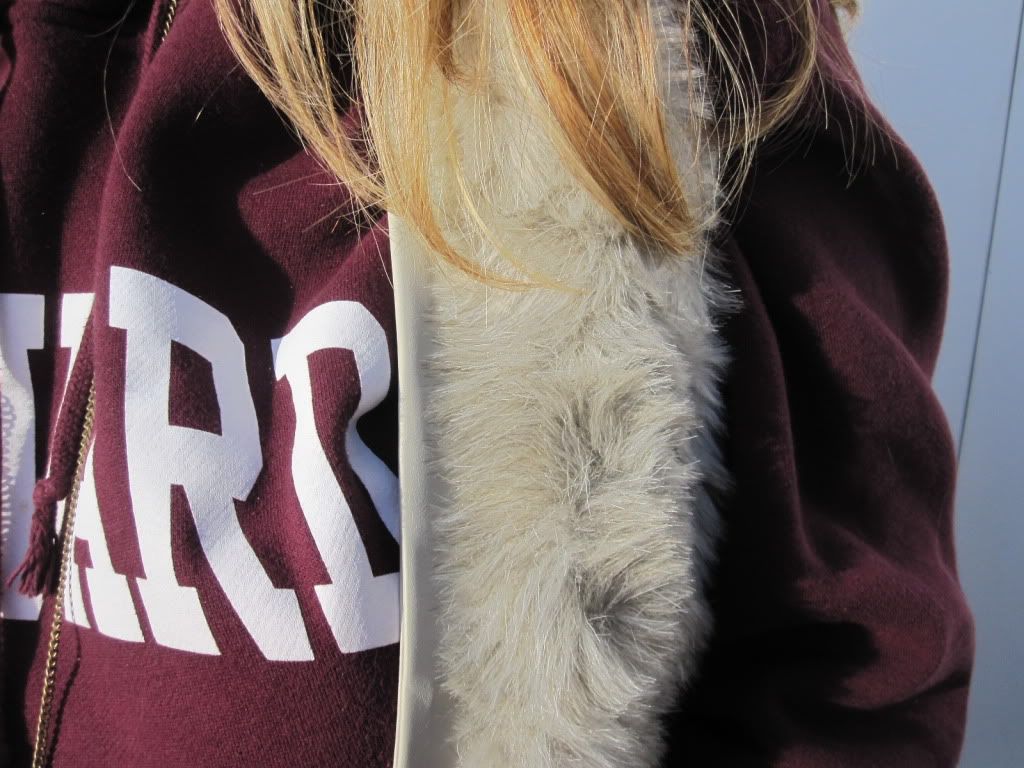 (If you register with the site you get 20% off your order.)
Harvard Hoodie-
Inkwell and Ivy,
Fur Gilet -
Ellos
,
Jeans-ASOS,
Shoes-Converse,
From left to right Rings-
Rock 'n' Rose, Rock 'n' Rose
and Disney Couture.
Necklace-ASOS,
Earrings-Topshop
Soooo, This is a majorly over-due post as I was meant to post about this new fur Gilet I got at the start of last week but unfortunately I have been a bit out of action blog-wise as I had caught a horrid flu-y type thing that everyone seems to be getting just now. But thankfully I'm finally starting to feel a little less flu-like now!
I got sent this AMAZE fur gilet from a brand called Ellos.
For those of you unaware of the brand, Ellos is a Swedish based online store that is massive in....well....Sweden!
It (kinda) recently launched in the UK and I have been lucky enough to sample a few of their products.
I couldn't wait to get my hands on this gilet as I had been desperate to try one out over a hoodie like i had mentioned in
This
post.
The gilet came with a matching leather (pleather?) tie that closes it over to look more like a jacket/cardigan but I much preferred it without.
The fur so far hasn't shed and its super soft and cosy and it helps, heat-wise, that it's all lined inside too.
The only thing I would say is that the stores clothes seem to run on the smaller side of the size. This product and the other one that I have from there (more on that laterzzz) fit but are definitley smaller made. So it's just something to watch out for when you are ordering, I would definitely try ordering your size and the one above too just to make sure you get the fit you like.
I love a bit of faux fur but I hate wearing it in a WAG way, if you know what I mean. All glitz and fur. I like the contrast of wearing some dressy fur with a big ole' hoodie and dressing it down with jeans and some chucks'.
One of the best things about Ellos is the prices. Everything is super reasonable. If I had to compare it to another store I would say it was pretty similar to H&M price wise. Most of the clothes in the store are basics, tee's, sweats, lovely chunky knits. That kinda thing. So if you're looking for a new place to get some 'Winter Warmers' I would give them a go, they don't have too much of what I would call 'dressy' things on the site but I think it will definitely be on my browsing list when I'm looking for some new basics now.
What do you guys think of my hoodie?
I am obsessed with Ivy League clothes, as you will all know if you have been reading my blog for a while.
I love everything about the whole Ivy League thing and how preppy and American (obvz!) it is and I have so many pieces from the official clothing brand of the colleges.
This has been on my must have list for years and I cannot believe I finally own one. It's not an exaggeration to say I have never had it off. I got it just in time for the cold snap starting and I cannot even describe to you how warm and cosy it is.
Also the thing I was most surprised about though was the fit. I was expecting it to be big and baggy and shapeless (circa The Gap Hoodies of the past) but it is completely different. I'm not going to try and say it makes you dramatically slimmer or anything because hello, it's still a hoodie but it really is a flattering shape compared to most sweaters. It looks bulkier here only because the fur is over it. And after being washed so many times already the shape has stayed so well and it hasn't bobbled at all (my pet peeve of hoodies) I love that it goes with everything and I can dress it up or down. And to be honest with you it just makes me feel pretty smart wearing something that says Harvard on it, Ha!
The best place to buy all your Ivy League goodies (unless you live in America and actually go to an Ivy League, oh and if you do, please let me know what it's like, is it just like the movies, please say yes!!) is Inkwell and Ivy, I have bought all my stuff from there, they have beyond amazing service and everything comes super quick in the most beautiful packaging. If you love the whole college thing as much as me you have to check them out as they sell loads of other preppy brands too, oh and they also sell the same luggage that Serena uses on her travels in Gossip Girl, beeeeautiful!
Buy the Ellos fur
HERE
(I see that their site says you get 20% off if you order anything from the A/W collection right now!)
Buy the Harvard Hoodie
HERE
P.S Excuse the crazy dark roots, I am getting my hair re-done next week Yah! Oh and excuse the squinting face too it was sunny and i couldnt see without my sunglasses on!!!