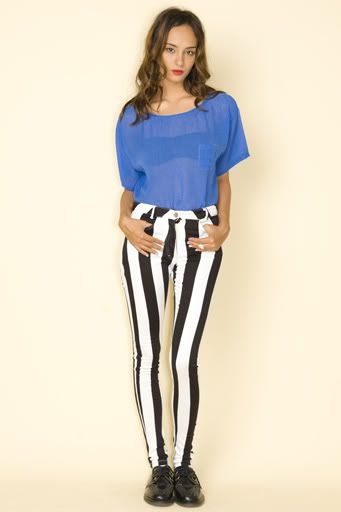 They very pretty, actually no, scrap that, they are damn beautiful Motel.
Do you know what, they are even making me toss out that 'fashion rule book', you know that one that tells you not to wear stripes if your legs are like this or that, well you know what, i say who cares ,who gives a bleep what these stripes may or may not make my legs look like you know why motel, because I like them and I think sometimes peeps are so stuck on what 'not' to wear that they forget its a little women with a (pretty bad) chin length bob and dark glasses(yes, HER!) who make up these rules and tell us all what we can and can't wear, what will make us look fat or thin, like a pear or an apple or a tangerine, well dammit, i say no more of this....
What I'm trying to say is, OK so that Poncho may make you look like Ugly Betty (circa season one) stuck in a tent but if you like it, like really really like it then wear it,
Simple as that, its OK that everything in your wardrobe may not make you 'look' like a supermodel but if you 'feel' like a supermodel in the inside when you wear it then hey that's good enough for me.
Sorry to rant at you Motel but its just i imagine that many of your customers have stared adoringly at these little beauties on your site but may have been too worried about what those stripes will do to their thighs and/or any other limbs they have, instead of just buying them and seeing for them self's that actually it makes their limbs look pretty damn awesome because in actual fact they aren't as big/small/long/tall as the women with the bob wanted them to think they were!