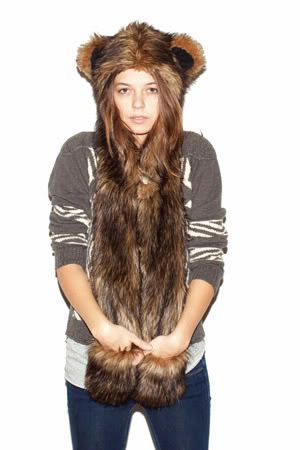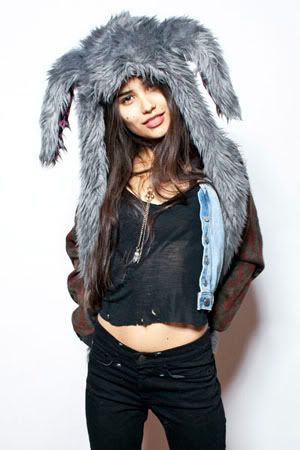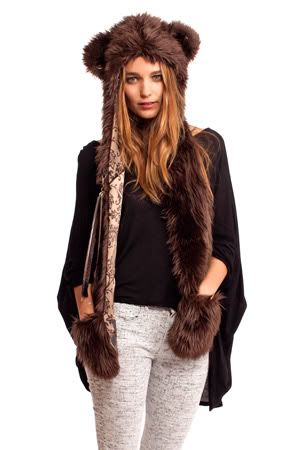 Are these not the cutest things?
So SpiritHoods have been around for a little while now,
Most of you will probably already have seen a slew of celebrities wear them
(I think Vanessa Hudgens rocked it the best, no?)
But they are now having their official launch in the UK
I think these are a bit like marmite for people
You either love them or hate them
I am on the Love them side
I have been a little bit in love with them since i first spotted them last year
I really want the grey bunny one, how pretty is it?
I think they are great because they are just so random, you are literally walking around with half a bear/rabbit costume on, and seriously as a (kinda) grown up we really don't get many opportunities to wear stuff like that, without getting arrested. So I say we should all jump at the chance to have a little bit of fun with fashion and look good at the same time...Obvz!
I think these will be perfect for festival season too, Paired with a cute little dress and aran cardie and some wellies pop in some makeup wet wipes and your good to go!
Each style represents a different 'spirit' so you can select the
hood that best embodies your personality.
How rad is that?
Buy them here, more will be available soon!
What do you guys think are you a fan of these and will you be wearing one this summer?
Also I just wanted to say THANK YOU all so so much for all your birthday wishes on here and on twitter it was so lovely that so many people went out of their way to send me a birthday tweet/comment/email!
I really appreciated it!
I had such a beautiful day and the sunshine even appeared for it too!
I got spoiled with the most amazing presents, I can't wait to show you them all, I didn't have time to photograph them all today but i will get the post up super soon!
I have extended my birthday to a birth-week so am celebrating for the whole week!
I'll keep you all updated!
Oh and Thank You all again for the lovely comments about my hair too, glad you like it!