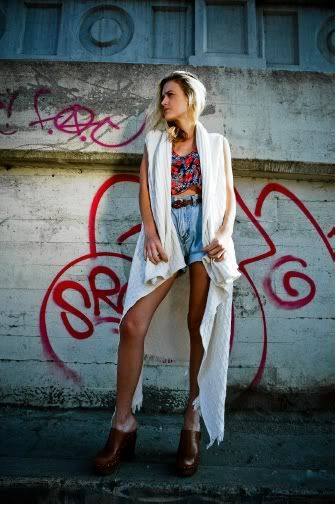 This is the new Spring 2011 Lookbook from the label
Otis & Maclain
I have posted about this label many times on my blog
And i fall a little bit more in love with every new collection they release
They just make the most perfect summer clothes. Seriously!
The new collection is full of loose swing tops, chic shorts and flattering jumpsuits
Not to mention the beautiful dresses...ah!
For me when i look at these pieces i just see Ivy from 90210 (Gillian Zinser)and Zoe Kravitz
I think they would look stunning in these clothes
They are so perfect for their style!
I just love the whole vibe of the collection especially that last Tee i would so wear that with everything coming into summer, It's so classic the shape of it, it looks like it would really flatter every body type.
I really will have to get saving to get a my very own little piece of Otis & Maclain I really do think my wardrobe is crying out for some
I hope they start to stock in the UK soon
What do you guys think are you a fan of this label?
Let me know your favourite pieces!
Check out the site
here
, to order yourself some goodies!