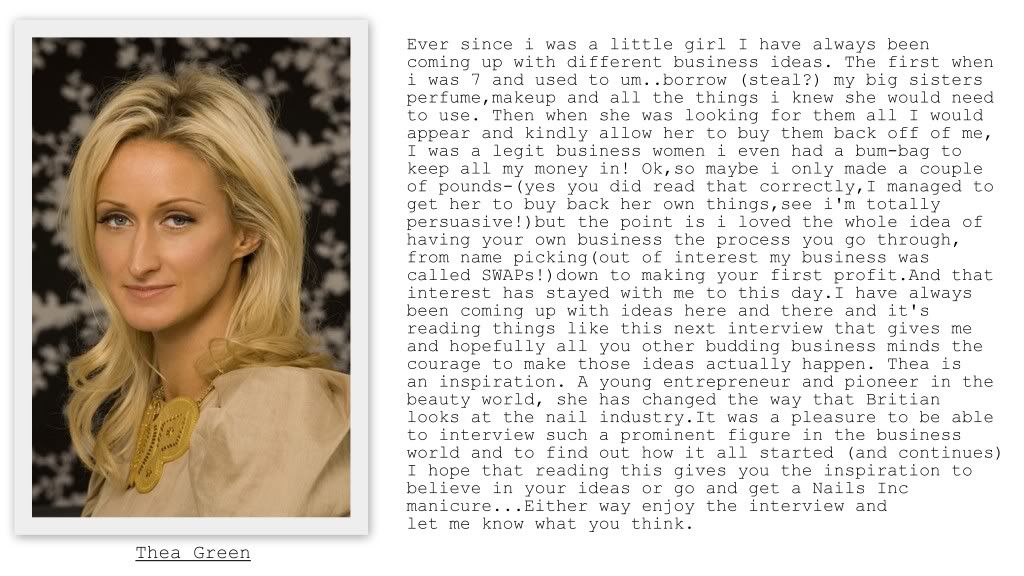 1. As a young budding entrepreneur myself I find it so inspiring to hear that you stared Nails Inc. at just 23 years old. Looking back, do you think that you done the right thing starting your company so early on?
I think that the best thing about starting a business very young is that youth brings an amazing confidence and can do attitude which is very infectious and builds momentum in a start up company.
2. You studied Public Relations and Journalism at the London College of Fashion. Did you plan on having a career in the fashion industry and if so, do you think you would have enjoyed it as much as the job you do today?
I worked in fashion – styling and writing for a few years before I set up nails inc. I am passionate about fashion and beauty and feel that I still work with very fashion forward people and products.
3. You worked at Tatler magazine, what was that experience like, was the fashion industry anything like you expected it to be?
The fashion industry was both exciting and challenging, I don't think you ever realise just how fast paced it can be! Its an incredible industry just like the beauty industry - I feel very lucky to have worked in both.
4. I read that it was seeing all the new nails bars opening up in America that gave you the idea for Nails Inc. At what point did it go from being just a good idea to deciding to make it an actual business?
After we did a round of focus groups and the customer feedback was unanimous and overwhelming.
The initial idea required a lot of research and after having conversations with many people in the beauty industry it made me realise that it was a perfect idea for a business.
5. When you first set up Nails Inc. did you have any prior business experience or did you just jump in head first?
A lot of my learning's have been on the job. Through working in magazines I had a good understanding of women's consumer trends and how to market and create and brand.
6. Was there ever a part of you that thought 'wait this is to big a deal to start' or did you always have faith that you would be able to launch the company successfully?
I have to always believe that we will be successful - it comes with the role. There's no time for self doubt when you run your own business – you just have to dust yourself off and keep going!
7. You started Nails Inc. with your Tatler colleague Marie Therese but she left the business not long after it was launched. Was that a setback for you or by that point was the business already up and running and doing well?
Of course it was a set back but I have always had a team around me of dedicated inspiring women and I learnt a lot from my team.
8. I know that one of the best pieces of advice most business guides or books will give you is to get a mentor or business angel. Did you have either of these starting up and do you think they are necessary for every business start up?
Yes I have had non execs and mentors throughout nails inc. An external view is very helpful when you're busy looking at day to day. It's always good to set time aside to focus on the big picture view.
9. When was the first moment you realised Nails Inc. was a success?
The first day South Molton Street opened and the queues were huge. Sky TV was filming it and women were waiting 2 hours for a 15 minute manicure.
10. Do you think having had so much experience working at a fashion magazine is one of the key reasons that Nails Inc. Is so continually on trend?
Nails inc is extremely fashion led and we strive to set trends. We are inspired by the catwalk and my love of fashion runs through the brands DNA.
11. All your nail polishes are named after streets, what gave you the idea for this and how do you choose which colour will be named after which street?
I have always considered Londoners to have a unique and innovative style. Nails inc is a British brand and we wanted to celebrate that through our products. London is an aspirational destination to live in or visit and naming our products after London streets lets people have a little piece of London.
12. I am such a massive fan of Nails Inc. I recently did a post on my blog with a picture of how many polishes from your brand I own and some people commented that it is unusual that someone is so loyal to a certain type of nail polish. But I think that actually sums up how good nails inc is that I would rather save up to buy one of your nail polishes that I know I will love and that it will last rather than buy a couple for the same price from a cheaper make that will chip after wearing them for a day. How hard was it for you to get your polishes right and the quality you wanted?
Quality has always been hugely important to nails inc. I want to produce a high quality professional product that can be used both in our salons and at home. We manufacture all of our nail polishes in the UK to ensure that the formulation is as high quality as possible. We create products that people will want to use again and again. All of this has helped us establish a loyal fan base. I continue to develop the brand and take full advantage of the all the latest advancements and technologies.
13. Now that the brand is so successful are you able to take a more backseat role or do you think you will always want to be at the forefront making the decisions?
I am still very much involved in all aspects of the business and work at our head office. I love my role at nails inc but now I also have a team of great people to help me.
14. Did you feel that the recent financial crisis had an effect on your business or the beauty industry as a whole?
We found that we were not as affected in the beauty business as other businesses such as home / furniture / holidays / fashion – nail polish is an affordable luxury that our clients didn't want to give up. Nail polish can transform your whole look and is far cheaper than buying a new dress of pair of shoes.
15. Nails Inc. is sold on the shopping channel QVC. I actually purchased your new Pastel collection range the last time it was on TV. QVC is a channel I really don't watch to be honest but I always make a point of watching Nails Inc. when it is on it as I think the value of the sets is amazing. What made you make the decision to sell on the shopping channel and do you think they sometimes get an unfair press?
We wanted to reach out to new people – QVC is great for people who don't have a nails inc store near them.
16. Being an entrepreneur yourself what do you think of shows like Dragons Den and The Apprentice. Do you think that they are fair ways to make it into the business world?
I think those shows are very entertaining and give people opportunities who may not otherwise have been able to make contact with such powerful and important investors.
17. You launched a new false eyelash brand called Get Lashed. Can you tell us more about this part of the company?
Get Lashed is a new brand that offers lash, threading and tinting services. We now have over 20 locations nationwide. We wanted to become a destination for beauty – you can visit us now for both a manicure, threading or lash services!
Lashes are one of the fastest growing beauty trends, and like nail polish, are the ultimate fashion accessory. Lashes are no longer just for party time, they can be worn every day and for any occasion.
18. Was it always your plan to expand your business and do you have any other plans to launch any other sidelines. I always imagined if Nails Inc made make up it would be wonderful, no?
Thank you. We have launched a sister brand, Get Lashed, which is selling strip lashes very successfully and we have a high fashion angle in the pipeline.
19. You have collaborated with a lot of designers and companies in the past such as Diet Coke, Luella, Gareth Pugh and PPQ to name just a few. How do these come about and do you have any more in the pipeline?
Often we are approached whereas sometimes we contact designers or brands who we really admire. We choose to collaborate with brands who fit well with nails inc and who we believe our innovative and inspirational. We have some exciting projects in the pipeline so you will have to wait and see!
20. What is the inspiration for Nails Inc. just now. What is influencing the new collections?
Nails inc polishes are catwalk inspired – right now the trend colours are camel, mink, nude, lilac and grey. Our collections this season are full of rich, luxurious shades that are both high fashion and easy to wear.
21. What advice would you give to young people looking to start their own business?
Do your research and find out what gaps there are in the market. You must believe in your idea and be determined to see it succeed. It's hard work but incredible rewarding. Surround yourself with brilliant people always.
22. What is your view on blogs especially beauty blogs where people are more likely to talk about your products, do you think they are a good way to get your products out there to be seen?
I really do and the web is now such a hugely influential and important tool for communication. Blogs are fantastic as they promote equality – everyone can have their say / express their opinions. It is also a fantastic way to reach out to new customers. Its great to get that instant feedback.
23. If you had the chance to go back and give your 23 year old self some words of wisdom about what lay ahead, what would they be?
Just do it!
24. And finally, the secret to having perfect nails is......?
A regular manicure and wearing beautiful nail polish!
Check out Nails Inc.
Here