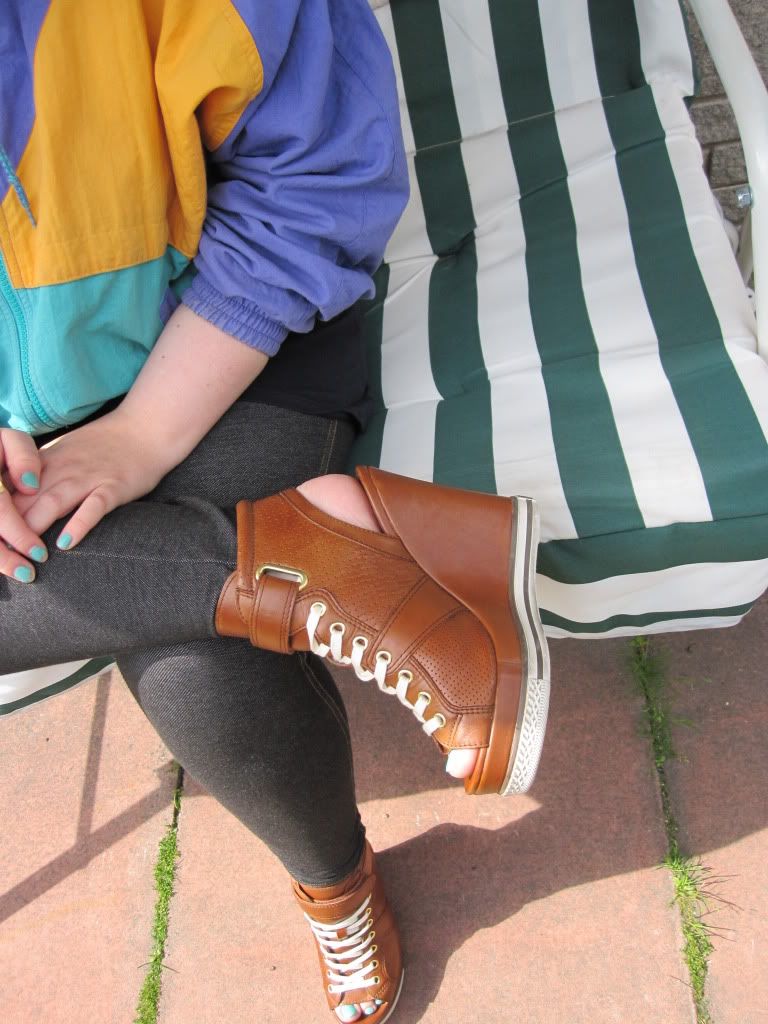 As some of you already may know, a little while ago i got chosen to be in a competition run by the shoe website
Sarenza
. Every blogger that took part got a free pair of shoes and the one's pictured above are what i chose.
They are from the brand Ash who i just love.
If i was rich enough i think i would buy a pair of their shoes in every style. I am so glad i picked these wedges though as I have worn them so much since i got them. They seem to go with nearly everything and the are surprisingly really comfortable which is strange considering how high they are but the soles are really cushioned and bouncy.
Sarenza is a french website that has just newly launched in the UK. I am in love with their
Fashion Findings range collection
. They stock so many brands and my favourite part is there is free delivery on every order, which i love as i hate when websites make you pay like £8 when you order a scarf or something equally as light and then take two weeks to deliver it, arghhh!
Anyway, I wanted to let you know that the super kind people over at Sarenza *Waves at Camille* have given all my readers the Chance of winning £60 Sarenza vouchers to spend on their website. The shoes are all really reasonable priced so that should definitely get you a pair of shoes or if your lucky maybe even two if they are in the sale.
I jumped at the chance to be able to do this as i know that you are all like me - You
love
shoes!
and what's better than free shoes?
That's
a rhetorical question as we all know there is nothing better!
So what do you have to do to win, I hear you ask?
Well Sarenza want you to tell me why you deserve this £60 voucher.
Then they will pick the best 5 answers and I will then get to pick my favourite one
My tip would be to make your answers fun and different so they stand out from the rest.
The Rules-
-You must leave your comment under this post
-Please include your email address if you don't have a blog or if your email address isn't on your blog
-You can only enter once
-For your entry to count you must also be a follower of this blog using either the blogger friend connect thingy at the side or bloglovin'
- This contest is open until the 25th of Aug
I can't wait to see all your entries and a massive good luck to you all
(Oh and keep your eyes peeled as i will be having a few more awesome giveaways after this one, which i just know you will!)